Answer America Review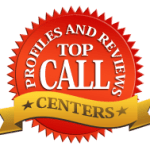 Answer America
1000 N Washington Blvd
Sarasota, FL 34236
www.answeramerica.com
(941) 953-4000
Overall Rating

Answer America:
Unlike many other answering service companies, Answer America offers a pay as you go service. Here's how it works: You sign up which only takes a few minutes and can be done online.
Next, you divert either your landline or mobile to a toll-free number issued by Answer America. Answer America will then take your calls under your company name and answer based on your instructions.
When a call is received, the answerer will get a pop-up on their computer. This message will guide the answerer through your preset requirements for answering customer calls. You can edit and change these requirements whenever you want from the online portal.
And lastly, after each call, you'll receive an online message.
Services
The services that Answer America offers are much more pared down than what Answering Service Care offers. However, none of these features will cost you any more to have.
Answer America offers a 24/7 answering service. Each call is answered by a real human being located in an Answer America office. All of Answer America's offices are located in the United States.
Clients also get access to the service's online portal. When using Answer America, your account is managed completely online. You can access and make changes to your data whenever you want.
Prices
Instead of tiers, Answer America offers bundles. Essentially, you pay for a certain amount of credits which are then used up each time you get a call. The lowest bundle is $30.
Here, each call costs you $1.20. Once you use up your $30 worth of credit, you're going to have to pay for more in order to continue using the service.
The next bundle costs $50. This is followed by a $100 bundle.
With this bundle, each call is reduced to $1.09. You also get an extra $10 bonus credit.
With the $200 bundle, each call now only costs $1.04. Plus you get a $30 credit.
At the $400 bundle, you'll see that calls only cost $0.96 each. You also get another $100 of bonus credits.
And finally, you can pay for a $750 bundle. With this bundle, each call only costs $0.90 and you get another $250 of credit, bringing it to $1,000 total.
Cons
The first major con is that you won't get the plentiful features that are available with companies like Answering Service Care. This is a fairly basic service but could appeal to people who want something simple.
Also, Answer America is not accredited with the Better Business Bureau. Many people find that companies are more legitimate and accountable when they are acknowledged by the BBB.
More About Answer America:
Open 24 Hours
Appointment Scheduling
US Based
Online Portal
Pricing starts at $30/month ($1.20 per additional call).
Not Sure About Answer America as the best solution? See other top reviews on answering service companies below.
Every business, no matter how big or small, must be able to answer incoming phone calls professionally. This is important so that they can field orders, complaints, and questions from their customers. Unfortunately, having your employees handle the calls can take away time from them doing other important work.
How do you get around this problem? By working with answering service companies. These companies can get rid of the burden that comes with answering every phone call your business receives.
Answering services can range from intensive and complex to simple and basic. Some services can provide customer support and do follow-up calls while others can simply take a message.
Answer America Complaints & Reviews
October 21, 2019