Best Call Center Services Companies of 2023 | Profiles And Reviews
Profiles and reviews of the best call center services companies in 2023. Compare options and features, get pricing information, and more.
Compare Quotes
Requirements to Make our Top Rated List
In order to make the list of our top-rated call center services providers the company is required to meet at least 90% of the following:
Answer calls within 4 rings
Have 99% uptime
Be able to process online sales orders
Be open 24/7/365
Have Bilingual Agents
Ability to answer product/order questions
Here's Our Review:
XACT Review
When it comes to flexibility, our XACT review support can't be beaten. No matter what your call center volume, you'll find a solution that is priced for your budget. This makes them a competitive option for both large and small businesses.
Call agents are shared so they will handle your inbound and outbound calls in addition to XACT's other clients. This shared service allows you to save money.
If you would prefer dedicated agents, they can provide this service too. Just be prepared for your service to cost more. For the increased cost, you get more services and agents capable of going off-script.
You can review daily reports to monitor the call center operations. If you want more exact reporting you can pay a fee and have access to real-time reporting.
VoiceNation Review
For the most basic of call center answering services, VoiceNation is there for your business. They offer inbound call management and answering. They can also provide you with call usage reporting.
You are limited to four pricing plans when choosing what level of service you want. The only real difference between the plans is the number of minutes you get every month.
A unique feature of VoiceNation is that they offer a couple of things for free. If you are unsure, you can try out their services for free during a trial run. They also offer free call forwarding.
MoneyPenny Review
When you want a call center service that provides agents that are respectful and professional, then MoneyPenny is a wise choice. This has come from their years of experience in the industry.
One standout feature of MoneyPenny is that you can have a robust suite of services. They offer call answering, live chat, and virtual office services. You can also choose how caller information gets sent to you, either by email, text, or within their app.
Go Answer Review
Businesses of all sizes can benefit from Go Answer's preset pricing packages for service. But if none of them work for you, feel free to negotiate a custom package that works just for your business.
Their services range from basic inbound call answering to advanced outbound telemarketing. They can also perform market research for you.
Their standout feature is that you won't pay extra for answering services performed during nights, weekends, or holidays.
On Brand 24 Review
You have the standard option of dedicated or shared agents. There is a third option with On Brand 24 though. It is a hybrid of dedicated and shared.
This lets you take advantage of some of the more advanced options that come with dedicated agents, while still controlling costs. This in-between option gives more flexibility to those businesses who have outgrown shared agent services but don't quite have the volume for dedicated agents.
Small businesses may find that On Brand 24's pricing is outside of their budget for their smaller call volume.
Contact One Review
Contact One focuses on four categories of call center services. If you need reception services, they can provide you with agents to screen calls, take messages, and answer caller's basic questions.
Maybe your office needs someone who can help you set appointments. With their help, you can have 24/7 availability and calendar software integration.
Medical offices need a call center that complies with HIPAA protocols. Contact One can do that for you. They can provide agents to provide support during off hours, weekends, and holidays. From small practices to multi-physician networks, they have a solution that works.
Their final area of service is the standard answering and support service. US-based agents will answer incoming calls 24/7 in either English or Spanish.
AnswerNet Review
AnswerNet offers inbound, outbound, and automation services. For inbound call services, they specialize in order processing, customer support, and medical answering services. It is important to note that automation is the future of the customer experience, so consider AnswerNet if you want a company that is innovative.
When it comes to outbound calling, you can use their agents for lead generation, market research, event registrations, and appointment setting. If you'd rather maintain control, then use their automation service to help you with call routing and voicemail.
AnswerConnect Review
If you need an inbound service that is more focused on customer service then AnswerConnect is a good option. Their services focus on setting appointments, order processing, and customer assistance.
While they do have an outbound lead generation service, it isn't as robust as some of the other options on this list.
This service is perfect for those new to the call center service industry. You can sign up for 90 days, and they will work with you to create a script.
Pricing is then done by call time. You are not charged for calls lasting less than 30 seconds. After that, you pay by the minute, and all calls are rounded up to the next minute.
Select the Best Call Center for You
When it comes to choosing the best call center service for your business, you need to know if you have any special needs. This will help you narrow down the list by canceling out those services that don't offer what you need.
Next look at your call volume and budget. This will help you select a service that is geared for working with your volume. Don't forget to consider scalability though. It is smart to pick a service that can grow with you as your demand increases.
Top Rated Call Center Services For Inbound / Outbound
Employing the help of call center services can save your business time and money while providing the friendly and competent service your customers have come to expect. Whether you simply need assistance answering and routing your inbound calls, are interested in outsourcing your appointment setting tasks, want to reduce company expenditures on help desk support staff, or need other call center services, a team of fully trained virtual receptionists can provide just what you're looking for.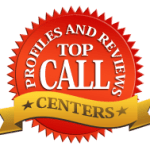 Our solutions can save up to 40% on live telephone answering services, inbound call center services, market research, order processing and so much more. PRI is your go-to solution for getting fast quotes from the most respected suppliers. Affordable pricing quotes will arrive within 24 hours with absolutely no obligation whatsoever. When vendors compete you get a better price and better service.
So if you're looking at outsourcing your inbound client calls, email response, IT technical support, live chat, or other customer support needs to a call center service provider then we're here to help you.
What Kind of Call Center Services Are You Looking For?
Last year Google shared samples of their Google Assistant AI making phone calls. It sounded so real the people it called had no idea they were talking to a digit AI helper.
While impressive, this advanced call-handling technology is still far from being able to fully support business needs. Right now Google is working to make it successful at handling the booking of restaurant reservations and hair salon appointments.
In the meantime, you need real live agents to help you handle your call volume.  So what is the best call center for your business?
Call Center Services
April 5, 2014